$5.99
For Application At The Job Site
FREE LOGO IMPRINT ON ORDERS OF 500+.
Description
Apply the NeoSan Labs Connect Sticker right at the job site, and allow customers and end-users to access instant details about the treatments and services performed.
Your Connect Sticker invites customers and end-users to visit the NeoSan Labs Connect Portal by either scanning a QR code, or going to connect.neosanlabs.com. After entering the unique job code provided on the sticker, they can see which specific cleaning services or special treatments were preformed, who did the work, and how long ago. Besides satisfying their questions about cleanliness and safety, they will see your business name, contact information, promotional messages, or special offers, providing an opportunity to interact with your company.
Easily enter relevant job information with any device, even your smart phone at the job site. Apply the sticker, and you're done!

AS EASY AS 1–2–3
Enter job details using any device.
Customers and end-users scan QR code or visit the Connect Portal.
Instant Details! What was done, by whom, and when.
Expand your service offerings to commercial entities that are required to publish cleaning protocols, or require specific treatments. Ideal for:
New Construction
Real Estate
Residential Cleaning
HVAC
Hotel Rooms
School Maintenance
Workspace
Hospitals & Healthcare
Facilities Gyms & Spas
Public Areas
ACTIVATE
24h after purchasing the stickers you will receive an email with a unique url and password.
After completing a job, log into, and complete the form.
After clicking SAVE, and the sticker is immediately active.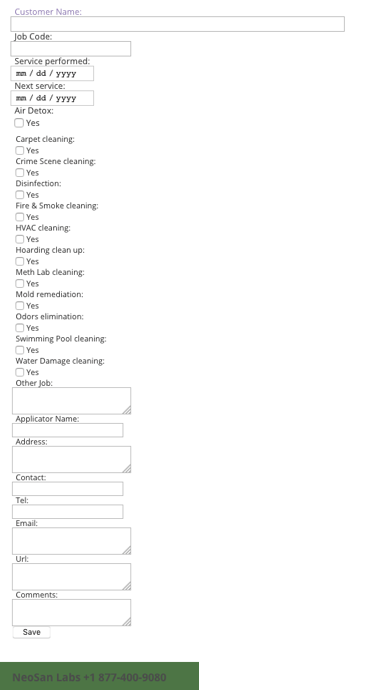 CONNECT
The details about the cleaning service performed can be immediately accessed by either
Scanning the QR code with a smartphone, or
Going to connect.neosanlabs.com and entering the job code provided on the sticker.