Safer, Healthier Environments
Standards for cleaning and disinfecting hotel environments have never been higher. We are helping the hospitality industry worldwide to navigate the complexities and challenges of protecting both customers and staff and rebuilding confidence in travel.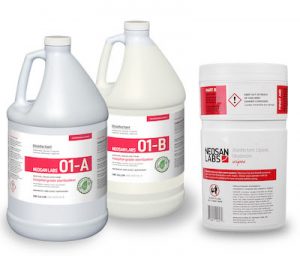 Based on technology, originally developed as a nontoxic response to biological and chemical warfare agents, our commercial, multi-purpose formulation has an unmatched level of effectiveness. Within just minutes, 99.99999% of bacteria, viruses, and chemical pathogens, including COVID-19, are eliminated.
Multi-purpose cleaner, deodorizer, and disinfectant
Remove odors and stains without encapsulating agents or fragrances
Use for mopping, spraying, fogging, or with wipes
Effective on porous and nonporous surfaces
Safe on all materials, including electronic devices and screens
Best-In-Class Disinfectant
Our product not only kills biological pathogens, it also breaks down volatile organic compounds (VOCs), formaldehyde, allergens, stains, odors, and toxic chemicals into nontoxic, biodegradable components. It even removes harmful residues left by other cleaners, sanitizers, and disinfectants, and eliminates bed bugs and their eggs.
On treated surfaces, a fungistatic barrier prevents colonization or regrowth of spores, bacteria, and viruses for over to 21 days. Where disinfectants like bleach can be highly corrosive, release toxic gases, fade colors, and cause long-term damage to the environment, and alcohol-based products can be flammable, our formulation is safe for all materials, noncorrosive, nontoxic, and biodegradable.
Safe For All Surfaces, Nontoxic & Biodegradable
Makes Hotel Environments Safer & Healthier
Most Effective Product In The Industry
Eradicates 99.99999% Of Germs, Bacteria & Viruses—Including COVID-19
Prevents Colonization Of Bacteria, Viruses & Spores For 21+ Days
Eliminates Toxic Chemicals & Residues Left By Other Cleaners, Sanitizers & Disinfectants
Proven Efficacy Against
Staphylococcus aureus, Staphylococcus epidermidis, Listeria monocytogenes, Influenza Type A (H1N1) & B, Pseudomonas aeruginosa, Klebsiella pneumoniae, Enterobacter aerogenes, Escherichia coli (0157:H7), Clostridium difficile, Salmonella enterica, Proteus mirabilis, Bacillus subtillis, Bacillus anthracis, Yesina Pestis Norovirus, MRSA, ESBL & Vancomycin-resistant Enterococcus faecalis.